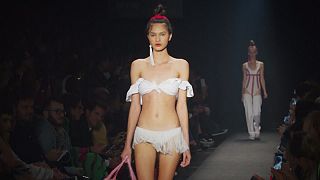 Featuring high on the list at Sao Paulo Fashion Week were the bikini collections.
Legendary Brazilian bikini designer Jaqueline de Biase delivered for this 41st edition, with a collection she said was inspired by Miami, its beach culture and its vibrant art scene.
Founded in 1982, her colourful, laid-back Salinas brand is now a household name in Brazil, with dozens of shops nationwide as well as buyers around the world.
Brazilian-born fashion designer Amir Slama was inspired by Brazilian carnivals from the 1930's and Forties for his upcoming beachwear collection.
Models took to the runway in bikinis and bathing suits decorated with beads and raffia fringe. Bikini bras were combined with printed plaid pants and mini-rara skirts for that relaxed look on the way to the beach.
For boys, there were suggestive screen bathing shorts, tangas in black and white, and Slama's very own take on the traditional striped sailor's shirt.
The Brazilian-born fashion designer made a name for himself with his beach fashion label Rosa Chá, before launching his eponymous brand with stores in Sao Paulo and Rio de Janeiro.
For her Água de Coco luxury beachwear collection, designer Liana Thomaz sought inspiration in Brazil's Amazonian rainforests.
Rich materials and embroideries of pearl and silk were used in this highly tropical collection, which the designer said was aimed at making people dream in these difficult economic times.
Starting out with just one sewing machine in 1985 with the aim of creating a beachwear brand of impeccable quality, Liana Thomaz has achieved her dream: thirty years on, Água de Coco is one of the most respected luxury swimwear labels on the global fashion scene.