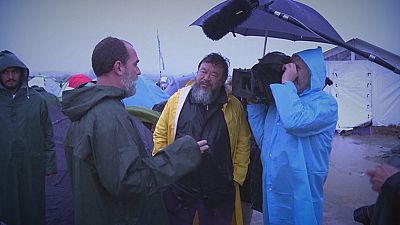 The Chinese dissident artist Ai Weiwei has announced that he will release a documentary film next year on the refugee crisis. Ai, often described as China's most high-profile artist, was speaking at a news conference in Bern on 27 April to mark the opening of the "Chinese Whispers" exhibition, featuring around 150 works of contemporary Chinese artists at the Zentrum Paul Klee museum.
"It's a documentary film, we have been shooting over 600 hours. I did hundreds of interviews, there are all kind of people: politicians, refugees or priests or NGOs… all kinds of people involved in this crisis," he said.
As a political activist, Ai has often used his art to comment on the Chinese government and human rights issues. He has recently been very much invested in raising public awareness about the refugee crisis, with spectacular installations.
One created a memorial-like object in Berlin with discarded life jackets from Lesbos refugees. Another symbolically covered the sculptures of an installation with thermal blankets at an exhibition in Prague.
Ai says he has spent a lot of time in refugee camps in recent months, on the Greek Island of Lesbos or at Idomeni near the Greek-Macedonian border, where he witnessed a "very difficult situation" and decided to share his experience by making a film.
He believes European politicians' response to the crisis is stripping refugees of their "very basic human rights".
"It's very short-sighted and, also, it's a pity to say that Europe doesn't work together, it doesn't hold our values and beliefs together. Nobody trusts anybody else and this is a very sad situation," he says.
The movie is going to come out next year. The last filming is still going on since the refugee situation is continuous, he maintains:
"We still have difficulty stopping our shooting, we still have six, seven teams working on that every day."
Ai was arrested in 2011 by the Chinese government and held for 81 days without any official charges filed against him. Chinese authorities returned his passport in July last year. He moved to Berlin.