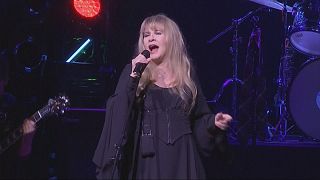 Richard Linklater's 2003 film 'School of Rock' has successfully made the transition to Broadway. Earlier this week, one of the production's biggest fans, Fleetwood Mac singer Stevie Nicks, made a surprise appearance after the curtain call.
She was there to promote arts education in schools, and joined the show's all-kid band for a rendition of 'Rhiannon'. After the show, she had nothing but praise for the young musicians.
"I have Fleetwood Mac, and then I have my solo band – which I've been playing with since 1980, pretty much the same people – and now I have one more fantastic band to add to my roster of amazing bands, so I'm very happy," she said.
Nicks also shared memories of her friendship with deceased pop icon Prince, which started when she wrote her 1980 hit 'Stand Back' after listening to a Prince song.
"I wrote 'Stand Back' riding along in the car, the first time that I heard 'Little Red Corvette'. And then I went in to record it and I called him. I got the number somehow and I asked him if he would come over to Sunset Sound in Los Angeles, never in a million years expecting that he would say yes, or that he was even in Los Angeles, and he was there in like twenty minutes," said Nicks.
"So, we became really good friends from that moment onwards. I didn't have to call him and tell him that I kind of ripped off his song, but I did because I'm honest. So it turned into a really amazing relationship. Is my heart broken? Absolutely, broken."
Nicks' performance was for a good cause – to help raise money for a charity that provides financial support for people with AIDS and HIV-related diseases.
'School of rock' runs daily the at Winter Garden Theatre on Brodway and plans to open in London's West End next year.