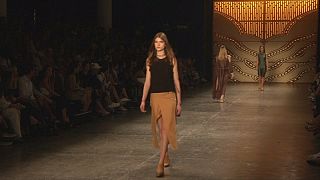 It is a more sober Sao Paulo Fashion Week that is taking place in Brazil's largest city this year, as the country faces its worst economic crisis in decades.
Latin America's largest fashion week, it brings together some forty Brazilian designers unveiling their Spring-Summer 2017 collections.
Designer Lilly Sarti opened the five-day fashion extravaganza with a collection of breezy fabrics in earth tones, with sensual transparent panels.
Despite the country's dire economic situation, the designer remains optimistic: "In any kind of crisis or when the economy is going through problems as ours is today, I see it as a time to adjust any loose screws rather than complain, to look for alternatives, to improve what we do, improve our strategy. I really see it as an opportunity," she said.
Created by the couple Raquel and Roberto Davidowicz, UMA is a brand of urban, active clothing, with a sensual, refined touch.
The Spring-Summer 2017 collection reflected this spirit with minimalist sport-chic pieces in neutral chiffon, punctuated with comfortable footwear including sandals and converse sneakers.
Sao Paulo Fashion Week, the fifth largest event of its kind in the world, runs until April 29.