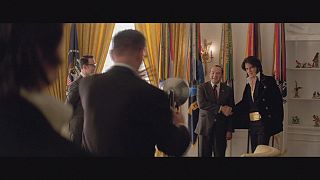 On the morning of December 21, 1970, Elvis Presley showed up at the White House requesting an urgent meeting with President Richard Nixon.
The surreal encounter between 'The King' and the US president was immortalised in a photograph which has become the most requested picture in the US National Archives and is now the subject of a movie 'Elvis & Nixon', which recently premiered at the Tribeca Film Festival in New York.
Kevin Spacey stars as Richard Nixon with Michael Shannon in the role of Elvis.
"This event, this meeting between Elvis and President Nixon happened in 1970. So this was actually years before he started taping in the White House, and many years before the scandal of Watergate," said Stacey on the red carpet. "So it was kind of nice to play a Nixon that was not saddled by all of that. And also this was a very private encounter, and so it was interesting to play a Nixon that wasn't about a public address or a public meeting but something that is quite intimate."
Describing his role as "very challenging", Shannon added, "Nobody can be Elvis, there is only one Elvis. But I thought the story was worth telling and that is why I did it."
Elvis' goal was to convince Nixon to use him as an undercover agent in the Bureau of Narcotics and Dangerous Drugs.
The film's director Liza Johnson found the story funny and was particularly seduced by the absurd juxtaposition of two very different styles of men.
"Just simply from the way that the story shows that Nixon doesn't understand why he should meet Elvis, I just was very charmed by that," she explained at the film's premiere. "It made me feel this big gap in history, that the relationship between entertainment and politics was so different to what it is now."
Described as even funnier than it sounds, the film has earned its main protagonists critical praise for their performances as two of America's best-known figures.
'Elvis and Nixon' is on global release from now.