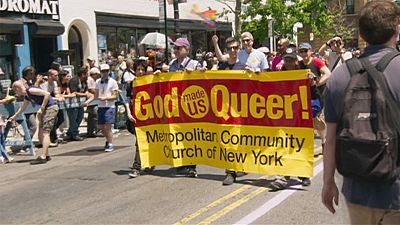 Frederick Wiseman, the 86-year-old American master of documentary filmmaking, bewitches us with an extraordinary documentary about Jackson Heights, a very cosmopolitan neighborhood in New York where 167 languages can be heard.
Wiseman's camera wanders along the streets, goes into shops, films workers, politicians, charities and groups defending the rights of immigrants and lesbians, gays, bisexuals and transgenders.
The film closely follows the Colombian community, one of the biggest in the neighbourhood.
For this intimate and profound documentary, Wiseman used two key ingredients: patience and quiet observation. The director's intervention is minimal. There is no narrator, no sound track — only images, natural sounds and the voices of protagonists.
The filmmaker describes in particular the shopkeepers' concerns about rental costs. Not far from Manhattan, Jackson Heights is increasingly coveted by real estate developers.
Directed by one of the masters of documentary filmmaking, "In Jackson Heights" is an excellent way to reflect on democracy and contemporary societies.
We hope you enjoy it as much as we did!