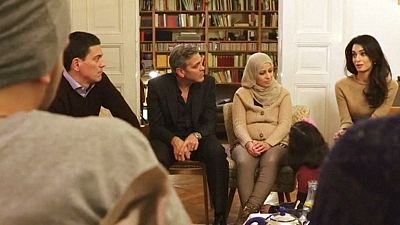 Actor George Clooney and his wife Amal have been in Berlin to meet with refugees to mark the fifth year of the Syrian war.
George and Amal Clooney hear Syrian refugees' heart-wrenching stories https://t.co/WUN3jIQBuEpic.twitter.com/M4rKvKnQ69

— Huffington Post (@HuffingtonPost) March 15, 2016
George Clooney's family left Ireland to start a new life in the US and his British-Lebanese human rights lawyer wife fled Beirut for England during the Lebanese Civil War.
Watch George and Amal Clooney's emotional sit down with Syrian refugees: https://t.co/Wd6SfEss9wpic.twitter.com/TA05Tz2S8W

—

TODAY

(@TODAYshow) March 16, 2016
The performer made the point his origins were born out of desperation: "I am of Irish descent and in America 100-years-ago we were refugees. The Irish were treated terribly in America for a period of time and not accepted. And America learned to accept all of these ideas. What our country is its a country of immigrants and we have not recently done a very good job of remembering who we are. And being here and talking with you, is important to remind them of who we are and who we always have been which is: you.
Amal Clooney tells refugees how her family were once forced to flee their homeland too https://t.co/zuc8COLQcApic.twitter.com/XKtbOqPJP0

— Indy People (@TheIndyPeople) March 16, 2016
One of the refugees a mother of two described her experiences:"The bombardment was beyond comprehension and there was shooting between the two sides – I sat in the corner and I got ready to die. Wissam and Judy, my two children were shaking. I hugged them and told them I didn't want them to die while scared like that. Death is just death, I told them. I told them that all I hoped for at that moment was to die by bullets and not be beheaded. That would be Gods mercy."
No one escapes the violence said this Syrian man: ''It was unbearable, it was hell Whenever we had to leave, we had to duck and run fast. We could not take it anymore. There was killing and snipers, it became unbearable.''
Then there is the military police:
''I was arrested for two months and 21 days spent in a political prison and last time I was there I was tortured with electricity and burning stuff. I have every day many messages on my facebook page: saying they are going to behead me.''
His family confirmed his death by torture in a detention center,
March 3. (2/2)#Syria#detaineespic.twitter.com/fqHUbDn2eY

— هيئة إغاثة سوريا (@Yathalema) March 4, 2016
George Clooney questions the notion of a civilised world: "We like to think of ourselves as a civilized world and nations always look back at the end of these tragedies and say: "If we knew we would have done something" and the reality is, we know, you forget that these aren't just people who left their country for no reason at all. These are people who left their country because of an incredible tragedy. And there are people who had realised a normal life and their worlds were destroyed and blown up. It is too much to talk about giant numbers, its actually easy to dismiss giant numbers, but its very hard to dismiss a young child sitting on the ground crying when her mother is telling the story about how she left, she grabbed her daughter and sat on the ground and said: ''If I die I wanna die by a bullet because it would be quicker.''
Hail, Ceaser! Club Screenings Feb 22. On sale NOW! https://t.co/3dZbYXZv39pic.twitter.com/7kgKUd2vHW

— Dendy Brisbane (@DendyBrisbane) February 14, 2016