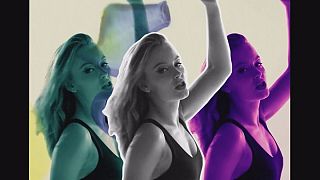 She may only be 18, but Swedish pop sensation Zara Larsson has come a long way since her first taste of fame.
After winning a Swedish TV talent show at the age of 10, Larsson has moved on to creating her own brand of edgy electro-pop, releasing her first EP in 2013.
Now, her new single 'Lush Life' is topping charts across Europe and has gone five times platinum in her home country of Sweden.
"'Lush Life' is about just having fun," she says. "It's actually not much harder than that, it's just about waking up and just living your day as if it was your last. You might fall in love with a few people, have a few crushes, but then it's like 'OK, next,' you know? You don't want to get attached to someone. You just want to live life."
The success of Larsson's duet with British singer MNEK 'Never Forget You' marked her breakthrough onto the American market.
While her voice and style may have drawn comparisons with Rihanna, Larsson is keeping her feet firmly on the ground: "Music is my life, basically," she says. "But I still have the same friends, still have the same family, still have the exact same life I've been having for the last 10 years, so it's hard to actually notice what's going on. Success should go a little to my head but, especially not for my family, they keep me very grounded."
'Lush Life' is out now. Zara Larsson's second album is due for release later this year.