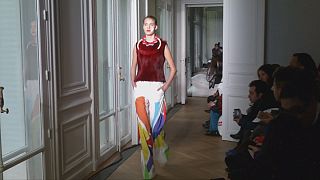 Paris Fashion Week has kicked off with a whimsical ready-to-wear collection by Liselore Frowijn.
The young Dutch designer said she was inspired by the late French artist Niki de Saint Phalle for her autumn-winter outfits under the theme 'Let's Hear It For The Lions'.
"They're very naively done in a bold way with primary colours, bold shapes, round volumes, polka dots. It's a very optimistic way of creating and I wanted to catch this energy that I got from her work in the collection," explained Frowijn, who said she wanted to pay homage to female artists and strong women.
Models strutted around a large Paris apartment wearing brightly coloured blazers, dresses and skirts, layered with materials featuring punched-out polka dot holes. The looks were accessorised with chunky jewellery consisting of large, round wooden necklaces, as well as choker necklaces and knotted earrings made of green foam.
Paris Fashion Week runs until March 9.