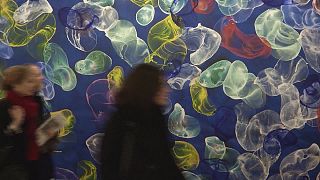 One of Europe's biggest contemporary art fairs, ARCO Madrid celebrated its 35th anniversary this year.
With more than 200 galleries from some 30 different countries, the event featured an array of works ranging from paintings and sculpture to photography, video and new media.
The aim for this edition was to bring about dialogue between artists from different generations. Aaron Moulton curated the event: "You see things at ARCO that you don't like, and therefore you see things that you like, and it actually forces you, as a professional but also as a consumer of art, to figure out where you are with your tastes. Many fairs, Frieze or what have you, they are average. They have what's happening in fashion now in a sense, so I do not think they really push you as a consumer to really see anything (special)."
Faced with rival fairs in Basel, Miami, Sao Paolo or Mexico City, and with the economic crisis, ARCO has been transformed into a smaller-scale event where visitors can discover works by emerging artists. Particularly keen to boost its role on the global art market, ARCO is expanding to Portugal with a sister event scheduled in Lisbon in May.
"Great Britain is in the middle and they have very good relationship with North America. We can do the same with South America and with Africa," says Portuguese gallery owner Cristina Guerra. "ARCO here in Madrid, and in Lisbon, can be this platform between the North and South."
When it opened in February 1982, ARCO broke the cultural silence Spain had suffered under Franco's dictatorship.
According to a report by the Art and Patronage Foundation, Spain's art market is slowly emerging from the economic crisis but continues to lag in sixth place within the EU behind the UK, France, Germany, Italy, and Austria.