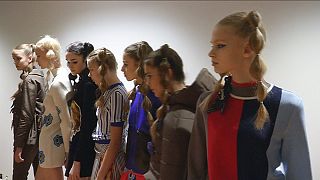 More than 60 designers presented their 2016 Fall/Winter collections at the fifth edition of Kiev Fashion Days.
I am inspired by fairy tales and children's stories...I like to complement images already invented in cartoons.
Ukrainian designer Anna K. is a representative of 'Generation Z'.
She launched her brand four years ago at the age of 16. Since then, she has gained devoted fans and buyers worldwide. Anna K clothes are in 40 stores in 25 countries and her collections have been on the catwalks of London and Milan.
Anna K, designer: "This collection is dedicated to space. The space objects, colours, and all that I came up with myself – it is connected with the cosmos. It's called The Guests from the Future. I am inspired by fairy tales and children's stories. Tim Burton inspires me very much. I like to complement images already invented in cartoons."
For her latest Fall/Winter collection, designer Olga Andreeva was inspired by American graphic designer Milton Glaser, his "I Love New York" logo and his kaleidoscopic posters from the '80s.
The result is a range showcasing faux fur mixed with glitter, psychedelic colours and an abundance of swirls.
Olga Andreeva, designer: " I was very impressed and inspired by posters from the '80s. This is … freedom. A woman who is free to choose. These are non-standard uses of knitted fabrics and handmade details that I continue to use in my collection."
Andreeva's nightclub collection included plenty of mesh.
The fabric took the form of sleeves tacked onto a silk jumpsuit striped in candied hues of red, green and peach, and as the black-and-white panels of a brocade dress.
There were more discreet pieces as well, like a dress with the front covered in silver sequins, which she paired with a sweeping cardigan made of strips of dyed ostrich feathers.
The show aims to give Ukrainian designers visibility to an international audience, an organiser explains.
Daria Shapovalova, co-organiser of Kiev Fashion Days: "This is a start in life for many designers, and we have many success stories of how various designers built a great career with our help. Five years ago, no one knew about Ukraine's fashion market. Now everyone knows there is a wave of Ukrainian designers, and we have a showroom in Paris that sells the work of these designers."
The future is bright for Ukrainian clothing.
Kiev Fashion Days precedes larger events like Ukrainian Fashion Week, which starts in late March.