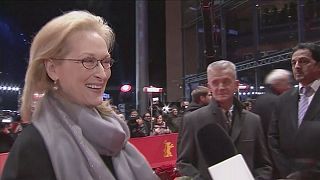 Meryl Streep will be jury president at the 2016 Berlin film festival.
The actress received the honorary Golden Bear award by the festival in 2012 for her lifetime achievement, but it will be the first time in her career that the 66 year old takes on the role of a juror at a film festival.
The festival's director, Dieter Kosslick, believes the three-time Academy Award winner will thrive as president.
"She is the most nominated and the most awarded actress we have now," Kosslick said.
"She was several times at the Berlinale, it's not the first time. She definitely is a professional film person.
"Even if she was never in a jury, even if she was never a jury president, I think she will make a great job because beside her skills as an actress, she is also a great person."
The festival will kick off on February 11 with the Coen Brothers' film Hail Cesar.
Many of the film's stars, including George Clooney, Josh Brolin, Jonah Hill and Channing Tatum are expected in Berlin, where the comedy is screening out-of-competition. The movie recently had its premiere in Los Angeles.
The American mystery comedy film was written, produced, edited and directed by Joel and Ethan Coen and set in the Hollywood film industry in the 1950s.
Eighteen movies will compete for the Golden Bear top prize at Berlin, the first of the year's major European film festivals.
The seven-member jury will announce the winners of the Golden Bear other awards on February 20.
The Berlin 2016 jury: Meryl Streep, Alba Rohr., Clive Owen, M. Szumowska, Lars Eidinger, B. Lacombe & Nick James. pic.twitter.com/YhcuVqAfG9

— The Film Stage (@TheFilmStage) February 2, 2016