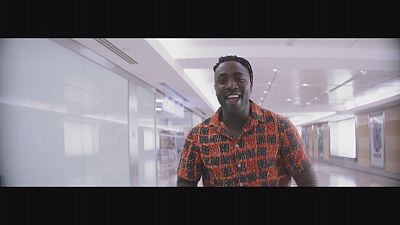 Indie rock band "Bloc Party" has released a new album. Their debut album came out 11 years ago and was met with critical acclaim. It reached number three in the UK Album Charts.
"Hymns" is their latest album a title which comes from lead singer Kele Obereke's renewed fascination with religious music after he found his old hymn book at this parent's house.
"I think the title really comes from a sense of how I would make music…if I was going to make a record that felt sacred, how would I do it really. So that is kind of where the title comes from, a sense of these are the things that are inspiring and important to me," explained the recording artist.
The video was shot in a north London shopping centre by award short film maker Ivana Bobic. And if you think some of the dance moves are quite amazing well that was down to the choreography of Holly Blakey . Her credits include working with Sinead O'Connor.
"We didn't have any visual references for the video. So it seemed to make more sense to get someone with a fresh pair of ears to come in and generate something for it. And they did for 'The Love Within'. But it has been different in the past, sometimes we've gone in a direction that's been spurred on by the music," Kele Okereke said.
'The Love Within' was the first single released. The album 'Hymns' is the British band's fifth studio album and they are currently on a world tour.
Redeem or relinquish? How does Hymns stack up against Bloc Party's illustrious back catalogue https://t.co/Yn2IYeV39r

— Dean Elphick (@DeanElphick) January 20, 2016