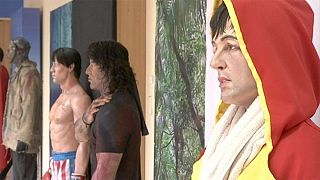 From Sylvester Stallone and Arnold Schwarzenegger to Star Wars' Yoda and Darth Vader, Walter Huaman's life-size sculptures of famous movie characters may resemble those seen in Madame Tussauds' museum but instead of using wax the Peruvian artist uses latex.
Latex is a flexible casting material when applied in thin layers and is ideal for creating flexible 'skin' surface casts. It has good detail reproduction and is relatively inexpensive.
"Madame Tussaud's used wax to make her famous models during her time because silicone didn't exist then. So she used what was available, the material which most resembled the human skin, that could look like human skin. That was wax, 250 years later we have an other material that allows us to better replicate humans," explained Walter Huaman.
There is a complex manufacturing technique to produce these models. Each one is based on a clay sculpture to which is added a mixture of fiberglass and resin latex or silicone. Additional products are added for the face, eye, hair and skin. Oh and of course there is the wardrobe as well.
"I began applying the hyper realism theme. Because in realistic statues you simulate the eyebrows, the hair, everything is sculpted. In my case I thought I'm going to make the statue but I am not going to sculpt the eyebrows, I will use real ones, I won't simulate the hair, I will us real hair. I want the characters to look more real," said Walter Huaman.
The sculptures have already attracted international art collectors from Saudi Arabia, Germany, England and Japan. Each one costs around 1200 euros and takes about four months to complete.