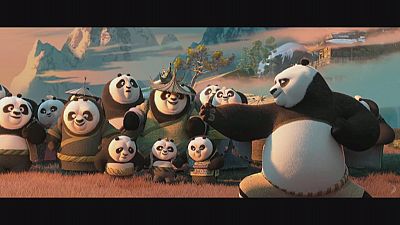 The third installment in the 'Kung Fu Panda' franchise is hitting the big screen.
It sees Po reunite with his biological father and travel with him to a secret sanctuary of pandas. When a supernatural villain sweeps across China defeating all the kung fu masters, Po must do the impossible – train the village of fun-loving, clumsy pandas to become the ultimate Kung Fu masters!
Jack Black returns as Po in the English language version: "The thing I like about playing the character Po is that he's a hero, he's a kick ass action hero and yet he's not this macho a-hole. He's a sweet, innocent, naïve, beautiful dude and that's a rare thing with heros in action. You don't see that, so I'm proud of that."
The English version of the movie stars the voices of Angelina Jolie as Tigress and Dustin Hoffman as Master Shifu.
But the American-Chinese co-production has been specially re-animated for China. Co-director, Jennifer Yuh Nelson, explains: "This is a big movie that has been embraced by Chinese audiences everywhere. And I think in order to give them a seamless experience we wanted to give them something that looks natively Chinese and so this is a whole different version of the movie, this is a version that is fully animated in Mandarin with a Mandarin voice cast so that nobody has to read the subtitles at the bottom."
'Kung Fu Panda 3' is on global release from now.