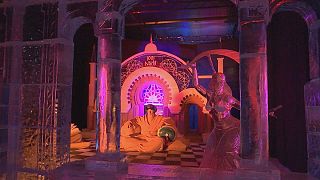 Visitors have to stand chilling temperatures but it's worth it to see this unique exhibition in Elstal near Berlin.
It took sculptors from around the world three weeks in minus 10 degrees Celcius to create the statues of ice and sand along the theme "The most beautiful myths of the 1001 nights".
"It's the work of 20 artists from 10 different countries, ranging from Malaysia, Thailand, Japan, France, Russia, Lithuania and Poland. Three hundred tons of ice were needed, and this year, for the first time, we created sculptures made of sand and ice. And, of course, the lighting is beautiful and we used blocks of coloured ice which were carved into works of art," says artistic director Othmar Schiffer-Belz.
From 'Ali Baba and the 40 Thieves' to 'Sinbad the Sailor' and other classic Arabian Nights tales, this winter wonderland, which is even equipped with ice slides for the younger visitors, has something to seduce everyone: "The exhibition is very beautiful, this is our first visit and we're enjoying it very much," said one father.
Germany's biggest ice sculpture exhibition, it drew more than 30,000 visitors in the first month. The show runs in the village of Elstal near Berlin until October. Be sure to bring a warm coat!