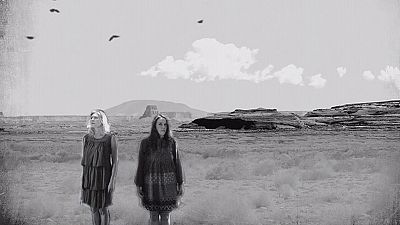 It was Simon and Garfunkle with tones that seemed to tiptoe over the words who made the song "El Condor Pasa" famous. Now another version has been recorded by the Wainwright Sisters, Martha and Lucy. If you think the name is familiar that because their dad is Loudon Wainwright III, folk singer, humourist, actor and patriarch of a musical dynasty.
"When Lucy came up and we started singing a few of these songs and she plays the guitar and I play the guitar, it was just really obvious right away that we had an interesting sound together because we'd never really sung together that much, and how easy it would be. In my experience of getting other family members involved can be quite difficult, so this seemed like the right fit for this kind of music and it really was an opportunity for us to spend time together too," explained Martha Wainwright.
The duo's album is called "Songs in the Dark". It's a collection of tracks which are particularly meaningful for the half-sisters, lullabies, folk songs and covers sung to them as children by their famous father. Whats up next for these members of the Wainwright dynasty which includes their brother Rufus?
"We have a couple of kind of record release shows in Canada and then in the new year we'll go back out," explained Lucy while Martha added: "We're only going to play if people give us a lot of money, we've decided, because this is like a side-project. We both have records that we're writing that are angst-ridden and aggressive and all about ourselves and so this was something else to do. But we want to see the reaction and if people like it and if people want to hire us and fly us out on a private jet and do all these things we'll be happy to come."
Have a listen to their version of "El Condor Pasa". The flute is missing but that hasn't put off the critics
"Songs in the Dark" which is out now has been well received.
More on Martha Wainwright
More about Lucy Wainwright