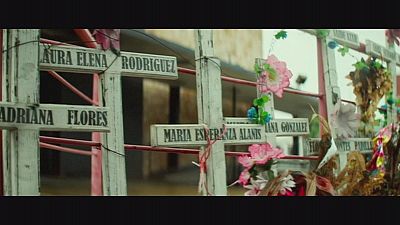 An unflinching look at the human cost of the US – Mexico drug war as seen through the eyes of three unlikely individuals, a nun, a US drug agent and a former smuggler. That's the theme behind director Bernardo Ruiz's documentary.
"Kingdom of Shadows" shows how the violence in their country has impacted on the three in the last seven to eight years.
Figures from Amnesty International suggest 26,000 have disappeared due to drug violence.
"There are many victims who don't have anything to do with the illicit trafficking of drugs but have suffered or paid a lot for this business that obviously has an important link with the United States – with consumption in the US," said the director.
Three years ago his Emmy award winning film "Reportero" explored how journalists in Mexico reported the drug war. Is his art worth the risk of putting himself on the line?
"There are many film makers who talk about the risks they have encountered and make a big deal out of it. But at the end it is the people that live in these communities that are being controlled by the organised crime, they are the ones who are taking big risks. We are producers who can always leave the place if things get too hot," responded Bernardo Ruiz.
The director knows his film will not solve all the issues but he does hope it will help focus attention on the conflict.
"Kingdom of Shadows" has had a limited release in parts of the US with a wider release planned for later in the year.