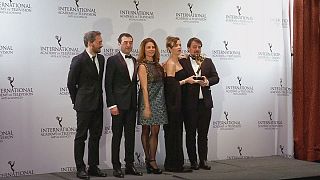 France has triumphed at
the International Emmy Awards at the New York Hilton picking up three prizes in the arts, TV movie and mini-series categories.

International Emmys: France Leads As 'Spiral' Wins Best Drama Series https://t.co/Ekbec6B548#hollywoodpic.twitter.com/4u8S9XBkaI

— Hollywood News Now (@hollywoodnewz) November 24, 2015
The French cops and lawyers series 'Spiral' was honoured for series five.
Anne Landois is the executive producer:
"More than ever I am so proud to work and to write about the work of the police. I want to say 'thank you' to the police because you know about the events that happened last week in Paris."
The Man who Saved the Louvre won the arts award.

Int. Emmy Awards pour "Illustre & Inconnu : comment Jacques Jaujard a sauvé le @MuseeLouvre" https://t.co/twzF2kyU11pic.twitter.com/XsNGNSrGRj

— Ministère CultureCom (@MinistereCC) November 24, 2015
The film recounts the actions of the Louvre's wartime director Jacques Jaujard, who saved many masterpieces from falling into the hands of Nazi theives during the Occupation of France.
'White Soldier' claimed the TV movie prize. The work sees two soldiers torn apart as French Indochina erupts into war in 1945.

Watch TV Movie/Mini-Series #iemmyNOM 'Soldat Blanc' (France) @canalplus@Breakout_Filmshttps://t.co/obckPw3sBKpic.twitter.com/fF4pwgdy3b

— Intl Emmy Awards (@iemmys) November 17, 2015
Dutch actor Maarten Heijmans won the Best Performance by an Actor for his portrayal of singer-actor Ramses Shaffy in the four-part mini-series 'Ramses'.
Maarten Heijmans wint een internationale Emmy voor rol in Ramses https://t.co/4FFJPAjLKjpic.twitter.com/Vm1Et0Qufc

— NRC (@nrc) November 24, 2015
He plays the French born Shaffy who became one of The Netherlands' most acclaimed performers.
The Best Actress award went to Norwegian Anneke von der Lippe for her role in the film 'Eyewitness.'

#AnnekeVonDerLippe fikk prisen for beste skuespillerinne under #IEmmyAwards2015#Øyevitnehttps://t.co/wiC1XooZjDpic.twitter.com/HAoZwa92wd

— Filmpolitiet (@Filmpolitiet) November 24, 2015
Two girls witness a mass killing and fear for their lives.
A double victory for Brazil, 'Sweet Mother'
gets the last laugh with the comedy award and 'Imperio' collected the Telenovela.
.@ViolaDavis shared a sweet mother-daughter moment after her Emmy Awards win: http://t.co/omsOb3Ho9bpic.twitter.com/sSjD1IMk9s

— VibeMagazine (@VibeMagazine) September 23, 2015
É do Brasil! 'Império' ganha o 'Emmy Internacional' de melhor novela https://t.co/jxSUrvBKmypic.twitter.com/IGSRSdzFtq

— Ego (@siteEgo) November 24, 2015