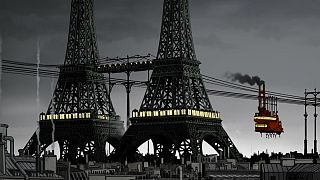 This week in Cinema Box, we bring you the wonderful French animation film 'April and the Extraordinary World' (original title: 'Avril et le monde truqué').
1941. France is stuck in time in the pre-industrial era, in a world ruled by coal, where scientists vanish mysteriously. April is a teenage girl who lives alone with her talking cat following the disappearance of her own scientist parents. One day, while trying to find a remedy for her sick pet, she invents a mysterious serum, which marks the start of an epic and life-changing journey.
By the same animation studio that delivered the poignant 'Persepolis', the film takes viewers on a riveting and poetic journey through an alternate world.
The graphic design is by French comics master Jacques Tardi, and has a delicious vintage feel with its rich 2D universe, offering a welcome break from the ubiquitous computer-animated features.
The voices are spot-on with award-winning actress Marion Cotillard as April and legendary French actor Jean Rochefort playing her mad scientist grand-father. Singer Philippe Katerine's cat is priceless.
'April and the extraordinary world', which deservedly claimed the top prize at this year's Annecy Animated Film Festival, is a rare movie that will inspire adults and kids alike.
We hope you enjoy it, see you soon in Cinema Box.