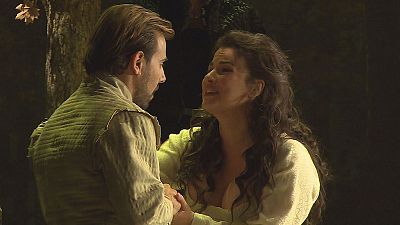 Ireland can boast one of the most prestigous international music events: Wexford Opera Festival, now in its 64th edition. Its aim is quite unique: rediscover those masterpieces somehow, and certainly undeservedly, forgotten.
Among the operas brought back to life this year is "Le pré au clercs", by Ferdinand Hérold. It belongs to the French 'opéra comique' genre, in which spoken texts are intermingled with musical, sung, pieces. When it debuted, and for many years later, it was a huge success, only comparable to today's musicals.
The opera tells the contrasted love story between Isabelle and Baron de Mergy, two young Protestants in 16th century France, a country still shocked after the St. Bartholomew's Day Massacre.
"He's decided, he's obviously very cautious of what is going on after the massacre, but he's in love. He's the type of person… a bit like Clint Eastwood, you know, he's relaxed but you don't mess with him because he's ready to die for what he believes," explained Nico Darmanin, tenor.
"Isabelle de Montal is impetuous, passionate, wild… she's the only Protestant at the court of France… When we started working on her character we actually did think of a 'cowgirl', who dreams of running through the fields but feels in fact imprisoned by the court, hampered by her cumbersome dress… I find it so funny that the two of us are actually Clint Eastwood and a cowgirl, like in a western!" exclaimed soprano Marie-Ève Munger.
The conductor is Jean-Luc Tingaud. "For me this opera is a remarkable rediscovery: it's a piece that, before 'Carmen' and 'Faust' was the highlight of French repertoire. The challenge today is to make it modern, fresh, lively… but Hérold's music is so good, it reminds one of Rossini, or Weber, and it shows so well the originality of a French Romantic composer. This is a show where you can just relax and enjoy!" he opined.
"Isabelle's great aria is just extraordinary to sing, it's a beautiful, virtuoso piece. This is an opera where the harshness of religious wars – unfortunately so topical still today -, is mingled with the lightness of love, of the intrigues to lead the two lovers to marry… it's an extraordinary piece!" concluded Marie-Ève Munger.
The 65th edition of the Wexford Opera Festival will take place from 26 October to 6 November 2016.