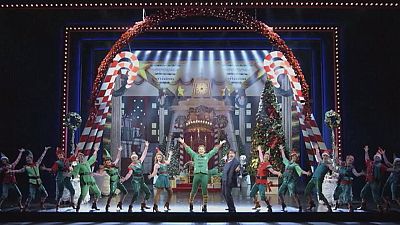 Based on the popular 2003 movie starring Will Ferrell, 'Elf the Musical' is the tale of Buddy, a young orphan who mistakenly crawls into Santa's bag and is transported back to the North Pole.
As he grows older, he comes to realize he doesn't quite fit in with the other elves and heads back to New York City to find out who he really is.
Starring as Buddy is the 2012 winner of TV talent show 'Superstar', Ben Forster, who admits that playing a hyperactive character twice a day takes a lot energy.
"The only thing that I'm happy about is that I can eat more food than I usually would because I feel like I'm burning some calories. But it is a really hard role because it is so full on and everything that Buddy does is like up here and out there and 'Oh my God'. You do that for two hours, twice a day, I felt like I'd been hit by a bus when I got home last night. I got in the car and I was like, 'I can't walk anymore'," he exclaims with a smile.
Joe McGann appears in the musical as Buddy's father, hard-hearted executive Walter Hobbs. He's convinced fans of the film will enjoy the stage adaptation: "I think that the main part of the experience is – well it's the same reason why I love theatre – we're all in the same room together, everybody's there, you're in the same room as Buddy. There's no medium between you and 'Elf' love. The magic is more immediate, I think, when you see this because if you can't say something then you sing it and if you can't sing it, you dance it. The whole thing is heightened and we've got a huge, huge, beautiful set. "
Such a grand production comes at a price, however, with tickets selling for as much as 260 £, an absurdly expensive show, according to critics who have been divided over the production.
'Elf' the musical runs at London's Dominion Theatre until January 2.