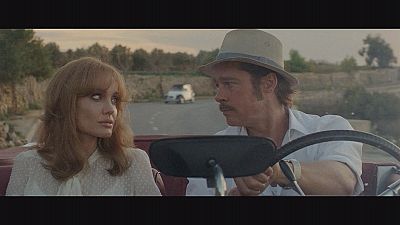 Angelina Jolie and Brad Pitt are reunited on screen after 10 years in 'By The Sea', which opens the American Film Institute's Fest on November 5.
The annual event held in Hollywood offers screenings of everything from potential Oscar contenders to silent classics and experimental films from around the world.
Set in a French seaside resort in the 1970s, 'By the Sea' tells the story of an American writer and his wife whose relationship is going through crisis.
"It's a story that comes across as a very personal film in some ways," explains AFI Fest director, Jacqueline Lyanga. "It's a very adult film about a couple going through a troubling point in their marriage. And it really feels like it's an exploration of artistic ideas and very much influenced by Italian and French cinema of the '50s and '60s."
The last time Jolie and Pitt starred together in a movie was in 'Mr and Mrs Smith' back in 2005, when the pair famously fell in love.
Written, produced and directed by Jolie, 'By the Sea' is her fourth film as a director.
"This is a time in both of their careers when they don't need to take these kinds of chances. They're extremely successful. And so it really is exciting to see them taking this kind of a chance, creatively, with material. And then, it's beautifully shot," says Jacqueline Lyanga.
Brad Pitt fans will also be able to see him soon in the festival's closing film 'The Big Short', a dark comedy about the US housing crisis.
Also starring Christian Bale, Ryan Gosling, Selena Gomez and Steve Carell, the film is based on the Michael Lewis bestseller of the same name. 'The Big Short' is on global release from December.