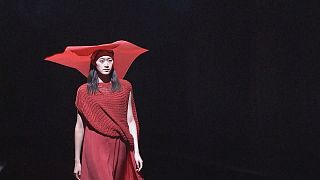 China Fashion Week in Beijing looked to both the past and the future as the event showcased local talent.

Traditional elements dazzle at China Fashion Week https://t.co/OxKJdGDJW2pic.twitter.com/D86pHAjC3H

— China.org.cn (@chinaorgcn) October 28, 2015
Li Shyong for D.CNTEX used Tang Dynasty fashion as inspiration as the designer explained:
"I love Chinese traditional culture and I feel it is in my blood and genes, so that's why I staged this show, to show my knowledge of traditional culture."
The Rosemoo brand and designer Li Bonan also also incorporated Chinese traditions into a collection for the domestic brand.
The collection fused nature, fashion and tradition for this contemporary collection.
At the Russian Fashion Week in Moscow the Georgian designer Bessarion stunned the crowds with a collection that suggested a gothic fairytale, but for the designer gothic is not the only element:"Of course we couldn't avoid having a fairytale. In our fairytale a clown was in love with a beautiful circus actress who fell down from a rope and died. So all the circus aesthetics are here from the clowns to the glitter and velvet. So it was small circus."

Показ бренда Bessarion для меня является одним из фаворитов этого сезона Недели моды, впро… https://t.co/71slPxDZhppic.twitter.com/YGLqTKiwtd

— Pitti Uomo (@PittiUomo_ig) October 23, 2015
Moscow is celebrating its 30th Russian Fashion Week.