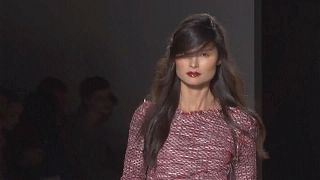 Portugal Fashion Week has kicked off in Lisbon.
Over 30 shows will take place to celebrate the 20th anniversary of the event, which has a tradition of welcoming new designers into the world of fashion by giving them the perfect platform to show off their creations.
Duo Alves/Goncalves' collection aimed to deconstruct classic looks.
"It is sensual, shiny, the luxurious sequins play against the printed fabrics. Knots, many knots, to create graphic impressions and give movement to the garments. They are very flowy because they are made out of natural silk," explained Manuel Alves.
Alves | Gonçalves at #Portugal#FashionCELEBRATION – Spring | Summer 2016 https://t.co/WuRa087rxJ#stylepic.twitter.com/D6R8lq6FK8

— PortugalConfidential (@PortugalCNFDTL) 22 Octobre 2015
HIBU, the design studio created by Marta Gonçalves and Gonçalo Páscoa created a sporty, urban and dark style.
"We're very inspired by the far-east summer. It's very minimal. We try to deconstruct in order to create details that make sense. We use knots, belts in unexpected places, or illusions such as shorts on top. Our pieces are always oversized and unisex," said Páscoa.
Designer Carla Pontes presented a collection inspired by water and algae with neutral tones dominating.
Meanwhile across the Atlantic in Brazil, the 40th edition of Sao Paulo Fashion Week) regarded as the premier fashion event in Latin America is underway.
Brazilian style consultant, Ana Fritsch believes that the economic downturn has brought about a change in fashion in the country:
"A reflection of the crisis is the creativity, which we've seen all year, in every way. We also have to be really creative in fashion – use pieces that we have at home, so everyone is consuming less. Play more, while also adding colour and creating new experiences. I think we're seeing a lot of this on the runway too, the labels trying to bring some joy with colours."
ANIMALE, the Rio de Janeiro-based, high-end, women's label presented its Autumn/Winter 2016 collection.
A coleção completa da AnimaleBrasil</a> já está no <a href="https://twitter.com/portalFFW">portalFFW: https://t.co/GFEkEMekgV#SPFW20A#SPFWpic.twitter.com/hIVsMuCMjU

—

SPFW

(@SPFW) 19 Octobre 2015
Sao Paolo Fashion Week is regarded as the world's fifth largest and features collections from more than 30 designers, including local favorites such as Ronaldo Fraga, Reinaldo Lourenco, Fernanda Yamamoto, Joao Pimenta and Vitorino Campos.