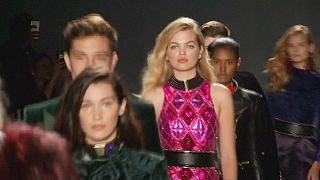 Chocolate and fashion have come together at the Chocolate Show in London with sweet treats gracing the catwalk.
Fabulous dresses were on parade and unlike your typical fashion show, these ones really are good enough to eat. Some of them require up to 10 kilos of chocolate and very special care.
"Sometimes melting is a problem with the models, they have chocolate all over them afterwards and sometimes the hats melt under the lights. But generally, for the fashion show, it's quite quick so it's not too bad," said the show's coordinator, Martha Clarke.
Getting the models dressed is quite a challenge – chocolate doesn't only melt but it can break, too. It was professional dancer and model Naomi Esser's first time modelling chocolate.
"Well I've never worn a chocolate dress in my life, it's a new experience, quite exciting, it smells great. Interesting, I've never done this before so it's all new for me," she said.
Entitled 'Once Upon a Time in the Land of Chocolate', this year's show had a fairtytale theme and included creations fit for Dalek-style baddies and chocolate fairies.
A new collaboration between Swedish multinational clothing company H&M and French label Balmain in New York featured an A-list catwalk cast including top models Kendall Jenner, Jourdan Dunn and Gigi Hadid.
Balmain creative director Olivier Rousteing described the collection in one word: "It's maximalism. This version is about the celebration of the richness, the flamboyance but also pop culture. I'm so proud to be here tonight and show you that luxury can get into H&M and be part of the stores."
Back in 2011, at the age of just 25, the then unknown Rousteing took over from Balmain head Christophe Decarnin, responsible for reinventing the classic French label's image, giving it a rock'n'roll vibe.
For this collection, the designer has delivered his label's greatest hits including beaded jackets, sequined dresses, black-and-gold tops and cage heels, all re-created with the retailer's lower-price magic.
Balmain's collection for H&M will be available from November 5th.