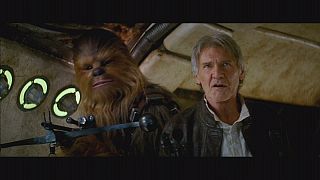 Two months before it opens in cinemas worldwide, the next 'Star Wars' is already setting records, with advance ticket sales breaking all previous figures.
The seventh movie in the sci-fi saga, 'The Force Awakens' reunites original stars Harrison Ford, Carrie Fisher and Mark Hamill. They are joined by British newcomers Daisy Ridley and John Boyega.
According to online ticket retail company Fandango, The 'Star Wars' phenomenon is unique in building such a massive audience.
"So, you're now going to have grandparents and their kids and then their grand kids are coming to see these movies. So, it's just a family event, all through the generations. And then I think they do such a good job of permeating all of pop culture – whether it's films or animated shows or books or comic books or temporary tattoos," says Fandango correspondent Tiffany Smith.
Created by filmmaker George Lucas, 'Star Wars' has grossed more than US$ 4.4 billion dollars globally since the first film was released in 1977.
We caught up with celebrities attending the Elle Women awards in Hollywood, who told us how excited they were about the upcoming movie.
"It's been our whole lives – 'A galaxy far, far away'! We've watched these crazy antics happen and we've got to see what's next. We've got to be there. Did you get your tickets?," enthused actress Bellamy Young.
"I think it's just something that's so fantastical that you disappear with 'Star Wars.' You just kind of get immersed in the world and it's something great to learn about. There's always new things, and it's just badass," said Sarah Hyland.
Zoe Saldana has worked several times with Star Wars director J.J. Abrams: "Are you kidding me? It's bleeping 'Star Wars'! I'm having a hard time stopping myself from e-mailing J.J. (director J.J. Abrams) and going, 'Dude, like, we worked together. Can do you do me a solid and hold two tickets for me?' I'm excited. I can't wait to see it."
"Yes, I will be in line with my children. I can't wait. And the trailers look amazing. I think the new lead guy (actor Adam Driver) is amazing. Oscar Isaac's in it. I can't wait," said actor Joel McHale.
'The Force Awakens' is the first of three new 'Star Wars' movies being produced by Disney since it purchased the franchise from Lucasfilm in 2012.
The movie is on global release from mid-December.