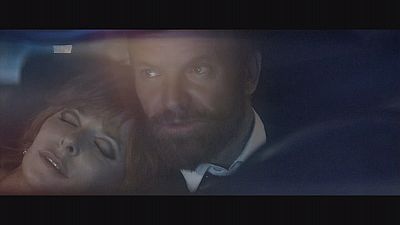 Sting and French singer Mylene Farmer play steamy lovers in the music video of "Stolen Car". It's the first promotional single from Farmer's upcoming album Interstellar.
The collaboration between the two with Sting who is 64 and Farmer ten years younger comes as a result of a long-term friendship.
The song is a cover version of Sting's 2004 single. Farmer, who has released 10 studio albums and sold 11 albums worldwide, re-wrote the song to add her section in French.
"I think that Sting is someone very humble, such a talent. I am very honoured to work with him and to share this with him," Mylene Farmer said.
Sting compared recording with the French singer like dancing with a partner.
"You know when you sing together and you sing in harmony and you have to phrase with another person, you'll have to learn how you phrase, and it becomes like a dance," explained the singer.
"Stolen Car" went straight to number one in the French iTunes music download charts the sales of which made it hit number one in the French single chart on its release.
Mylene Farmer's new album Interstellar is out on November 6.