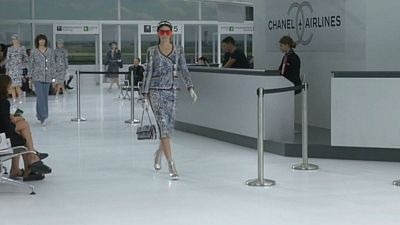 Chanel Creative Director Karl Lagerfeld recreated an airport departure lounge at Paris' Grand Palais for his latest Spring-Summer collection.
The aim, he said, was to revive the glamour of an age when taking a plane was still an extravagance: "This is the idea of the way an airport should be. And, in a way, it was like this, but then the planes were smaller and flying was another business. But this is a kind of place for a take-off to all kinds of directions and all kinds of situations," said Lagerfeld
A double breasted pink and green checked jumpsuit opened the show, along with Chanel's own take on the small wheelie suitcase, the "Coco case". A retro-cut trouser suit in tweed hinted at a time when air travel was glamorous. The aviation theme was evident with airplane and departure board prints on several outfits. There was plenty of glitz in shiny silver evening tops and jackets. Accessories included large aviator sunglasses, baseball caps and silver gloves.
Italian fashion house Valentino transformed Paris' Tuileries garden into a primitive wonderland with its African-inspired collection.
Sporting tight braids, models marched down the catwalk to the sound of drums, snaking their way through a pitch dark room. Long, floor-sweeping dresses and skirts featured prominently in the collection by designers Maria Grazia Chiuri and Pierpaolo Piccioli, who clad their models in colours of black, brown and red, with plenty of fringe, beading and tie-die.
The upcoming spring-summer collection by Christophe Guillarmé was entitled 'Strange Fruit', after a song by jazz icon Billie Holiday, to whom the young French designer paid tribute.
A fan of lace, Guillarmé sought inspiration in the past with Sixties skater dresses and maxi-gowns in a bright palette including flashy yellow, peach and fuschia. Pastels came in different shades and white was either theatrical in silk taffeta maxi gowns or textured on lace mini-dresses. Even the elaborate hairdos had a distinct retro feel.