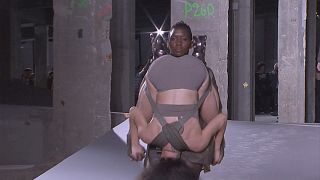 Rick Owens
The most daring accessory was on show at Rick Owens' spring-summer 2016 show. The theme was women supporting women,which became quite literal in Owens' ready-to-wear collection on Day 3 of Paris fashion week.
The headline stealing designer said that the use of harnesses in his designs "are about support and cradling," adding that they become "loving ribbons."
Structured tunics, and ruched leather pieces were mixed with zippered bombers, shorts and bra-like tops completed the subversive look.
Black a firm fixture in Owens' archives was ever-present, while silk and organza designs had touches of
Black always plays a starring role in Owens' designs. This time many of his silk and organza creations flaunted touches of silver, mother of pearl, bronze and metallic orange.
Chloe
A distinctly sporty look was on display at Chloe.
Tracksuits replaced the trademark bohemian dresses that put the brand on the fashion map.
Sporting stripes and multi-strapped sandals were the epitome of effortless cool.
But Chloe didn't completely turn its back on its whimsical ways – flowing white fabrics, freshened up the catwalk after the athletic look.
And a final burst of colour was a clear nod to the nymph-look of a classic Chloe girl.
Carven
Fashion house Carven worked the nautical look for its spring-summer collection.
New designers, Alexis Martial and Adrien Caillaudaud took the audience on a journey with outfits fit for a boat, switching to below water diving styles.
Sticking to the high-waist look they showcased in their earlier autumn collections, models sashayed down the catwalk in shorts, structured cropped jackets, silk printed blouses and skirts with bubble-like cutouts.
Lanvin
Adding a dash of glitz to the proceedings, Alber Elbaz's Spring collection for Lanvin didn't disappoint with reworkings of the themes he knows and loves: deconstruction, sequins, and easy glamour.
While androgyny remained in the spotlight at other shows, Elbaz reasserted womanhood as his inspiration, but kept a dose of practicality with the pretty.
Short dresses sported frothy ruffles, leopard prints, sequins. Silk dresses were inset with corset panels, black lace, and prints that reflected the iconic looks of Lanvin's history: perfume bottles, bags, shoes.