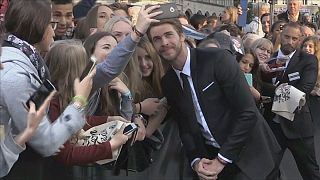 Transforming teenage screams into critical acclaim, Australian heartthrob and actor Liam Hemsworth has been awarded the coveted Golden Eye Award at the Zurich Film Festival, crediting him as the 'New A-Lister'.
The 25-year-old soaked up the atmosphere on the green carpet in the Swiss city ahead of the premiere of his latest film 'The Dressmaker'.
"I feel very honoured, you know, I feel very fortunate to be part of this festival," Hemsworth told media on the green carpet. "It's, you know, a relatively young festival, I guess but something that's celebrating and honouring filmmaking ."
Hemsworth has come a long way since the days of playing Josh Taylor in Australian soap opera Neighbours, clinching a pivotal role in "The Hunger Games" franchise.
Directed by Jocelyn Moorhouse, it tells the story of a dressmaker who returns to her tiny Australian hometown from the chic fashion houses of Paris to confront her dark past.
In its 11th edition, this year the festival will see more than 160 films from 33 countries, including 14 world premieres and more stars than you can shake a stick at, including the cast of The Man Who Knew Infinity.
Zurich Film Festival focuses on celebrating films from relatively new directors, accepting only first, second or third directorial releases. It also aims to shine a spotlight on new talent from the German-speaking world.
The festival runs until Oct. 4 2015.