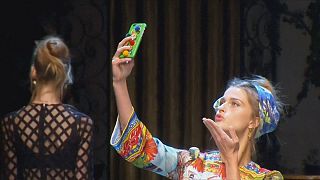 Milan fashion week held a few surprises for fashion houses reviving their reputations from Cavalli to Versace.
Missoni
The signature stripes of Missoni take on a tribal tone for next summer, as bold monochrome zig-zags gave way to explosions of colour, combining a palette of dark browns and blacks with red, fuchsia, as well as yellows, blues and greens.
Championing freedom of movement, the dresses were fluid, while trouser legs were wide and were matched with long, trailing barely-there knitwear.
Missoni said that for her, the ideal Missoni woman is ageless.
Dolce & Gabbana
Love was in the air at Dolce and Gabbana as the designers looked to their home country for inspiration for a holiday.
Their spring/summer 2016 collection was littered with selfie-taking models, Venetian gondoliers and gelato stands to make a postcard perfect picture.
No embellishment was safe from their wardrobe arsenal, with dresses showing a liberal sprinkling of sequins, gems and pom-poms.
Sorrento's lemons or Sicily's ceramics made their way from the souvenir shop to the catwalk on long silk dresses.
Roberto Cavalli
Peter Dundas made a striking debut as the new creative director of Roberto Cavalli.
The central theme was freedom, and was an attempt to revive the brand's cliches of high glamour metallics and animal prints.
With a clear nod to 1980s chic, the collection put a fresh emphasis on day wear, veering away from its reputation towards glitzy evening gowns. Though Dundas had clearly raided the Cavalli archives.
Denim featured heavily, from stonewashed to pink tones. Pastel colours clashed with neons, while ruffles on mini-dresses should please the party crowd.
Teaming high waisted jeans with a cropped jacket was unmistakeably 80s, but the entire collection was injected with a much needed youthfulness.
Versace
Versace channeled camo-glam for its spring-summer collection. The fashion house's vision of an urban jungle included military jackets worn as mini-dresses and brightly-coloured animal prints.
The collection dialled down the glamour in favour of boxier silhouettes and muted khaki colours dominated the catwalk. Geek chic staple, socks and sandals were given a Versace touch with seven-inch platforms.
Designer Donatella Versace said the show had a message of female empowerment. She described the woman who would wear the clothes as a 'fighter' who is 'fearless'.