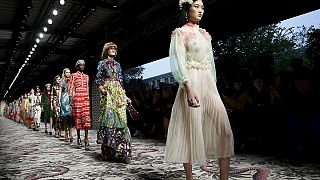 Alessandro Michele's second major Gucci womenswear collection was the most high-stakes show on the Milan fashion schedule.
In his feminine and romantic collection, the designer explored everything from the Seventies to English prints and exotic gardens. His delicate outfits displayed a rich variety of textiles, from 18th century brocades to metallic leathers and floral chiffons, in a collection that confirmed that for one more season at least Michele is the leader of the Milan fashion pack.
Chaotically elegant is how Roberto Rimondi described the spring collection he designed with Tommaso Aquilano for the Fay brand, part of the the Tod's luxury goods group.
"Fashion today has to be very eclectic, diverse. We are no longer talking about seasons. In a way we now need clothes that can be used both for the autumn-winter season and the spring-summer season," said Aquilano.
The designer duo went for a Seventies style with colourful patterned prints and rich embroidery in short skirts and corset-style waistcoats, including Fay's signature field jackets, presented in different lengths and variations.
Paisley patterns were used on clothes and accessories, including bags, sandals as well as calf-high boots, for the fashionista to be able to wear the same accessories throughout the year.
For her collection, Genny creative director Sara Cavazza Facchini said she was inspired by the vibrant colours and geometric shapes of Russian-born French artist Sonia Delaunay, who cofounded the Orphism art movement which is perceived as key in the transition from Cubism to Abstract art.
The designer mixed art deco shapes with 1980's metallics for her line of silk dresses, trouser suits and jumpsuits in a soft colour palette of mainly white, gold, and silver.