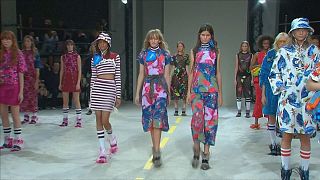 True to her style, the doyenne of British fashion, Vivienne Westwood, transformed her show at London Fashion Week into a protest against climate change and austerity, placing protesters carrying placards reading 'Austerity is a crime' and 'Climate revolution' in a gallery overlooking the runway.
The designer's Red Label spring-summer collection was a mix of florals, lilac and clashing prints with models sporting Mad Max-style makeup. The unmistakable Westwood signatures were there, including corsets, scooped necklines, tartan, and tiny waistlines.
Giant polka dots, leopard print and fur stoles: no doubt, the '80s are back at Topshop Unique.
The label, which is the retail giant's higher-end line, sent models down the catwalk with a youthful collection of summery floral print dresses with thigh-high splits, leopard blouses and fluffy fur jackets. Fur-lined kitten heels, grab bags and oversized earrings completed the sassy outfits.
Black reigned supreme on the catwalks of Versus.
The younger, diffusion range of Versace featured a powerful and sexy show. Both female and male models wore oversized black suits, with the signature Versus logo dotted throughout the collection. A dark green and maroon flower print featured throughout the show, as the label lived up to its punk aesthetic.
In usual House of Holland style, Henry Holland's collection was different and a little crazy.
The English designer said his starting point was Hunter Thompson's iconic book 'Fear in Loathing in Las Vegas', whose protagonist descends on Las Vegas to chase the American Dream through a drug-induced haze.
The result was a psychedelic mix of leopard print, suede patchwork, striped dresses and ostrich feather-embellished shoes – a collection infused with a sense of fun and British irony.