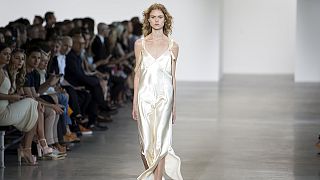 Fashion label Marchesa went back to its roots at New York Fashion Week showing off a collection of over the top luxurious ball gowns with intricate embroideries and details.
"I think we started looking at birds and aviaries and actually a lot of cages that Georgina has worked a lot into the corsetry within the collection," said Marchesa designer Keren Craig.
"Yes, a lot of texture, and a lot of big skirts. We have a lot of ombré, a lot of movement of colour, and it's very, very feminine this season," added her partner Georgina Chapman.
The bird theme was ever present throughout the collection, with feather detailing in appliqués, skirts and carefully placed around hemlines.
The duo also debuted their new footwear line, featuring shoes made of alligator or python leathers, Swarovski crystals and laser cut details.
Besides the couture brand, Marchesa also offers a ready-to-wear line and Marchesa Notte, a more affordable collection of dresses and gowns.
Inspired by New York artist Georgia O'Keeffe, US designer Michael Kors created a light, aspirational and earthy collection. Fluttery petals were sewed onto dresses. Wide black leather belts and grommets along skirts and hems provided strength to the outfits.
"Think about things that were in fact very soft and romantic and feminine, but take them down to earth and make them work in a modern way," said Kors backstage. "So ruffles, things that are slit and slashed that catch the breeze, things that unwrap. There's no short and tight in this show. It's all about things that move with the wind."
As the first of the four major fashion weeks previewing the Spring-Summer 2016 season, New York has a strong influence on upcoming trends. It seems fashion enthusiasts can look forward to more jumpsuits, vivid colours and head-to-toe white looks for the coming spring season.