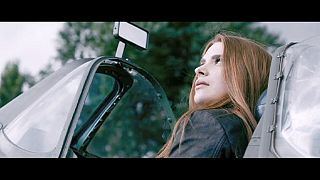 'If You Hadn't Done What You Did' is the debut single by Charlotte Mellor to commemorate the 75th anniversary of the Battle of Britain.
18-year old Charlotte, who has been singing since she was a child, is the daughter of an RAF chaplain and was a member of the first all-girl group made up of singers with relatives in the Armed Forces.
She says she hopes the song will help remind her generation about the historic event: "That event is almost sort of forgotten about and isn't as appreciated as it should have been. It was such a significant moment and it's not as appreciated as it should be, so this is just bringing it out, especially for my generation. It's almost shameful that we don't know nearly anything about it, so it's just bringing it to light almost."
A recent survey commissioned by the RAF revealed that 40 per cent of young adults in the UK have no knowledge about the Battle of Britain.
Waged between the RAF and the German Luftwaffe between July and October 1940, it was the first major military campaign in history to be fought entirely in the air.
"It's been very cleverly written. When people listen to the song, it almost sounds like a love song and that really captures people at the minute, but when they go into it more and actually realise that this is for the 75th anniversary, I think it will educate people and they'll actually think 'Hold on, I don't know anything about this,' and it will make people want to learn a bit more," says Charlotte.
Proceeds from the release will be donated to the Royal Air Force Benevolent Fund and the Bomber Command Memorial Fund.
Charlotte Mellor's debut single 'If You Hadn't Done What You Did' is out now.