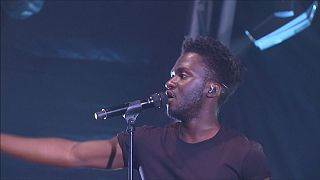 British soul musician Kwabs recently offered a taste of his debut album 'Love + War' at a concert at London's Somerset House.
Born in London to Ghanaian parents, the 25-year old artist grew up in foster care. He studied jazz at the Royal Academy of Music and first travelled to Ghana a few years ago to discover his roots.
The new album and the hit single 'Walk' sum up his inner feelings about his somewhat turbulent life: "It's just a song talking about all the stuff that you hide inside your head and how that affects you and affects other people. It drives you crazy but that's how… that's fine," he explains. "It's kind of a big song. It sounds big and grand and I guess that's kind of what a lot of the album feels like. It's a bit of explosion of emotion."
His musical career kicked off in 2011 when Kwabs appeared on a BBC talent show, which culminated with a performance at Buckingham Palace in the presence of Prince Harry.
The young artist explains where he draws inspiration from: "I've experienced a lot of things which colour my view of the world and which I've found really interesting, and I think other people might find interesting too if they feel that way inclined. So, for me, it's been about searching, you know, in the recesses of my brain and trying to work out what that stuff means to me so I can express it to other people."
Following a lead support slot with Grammy Award winner Sam Smith, Kwabs sets off on his own tour this autumn, with gigs in the UK, the Netherlands, Belgium, Switzerland and Germany.
His debut alum 'Love + War' is out now.