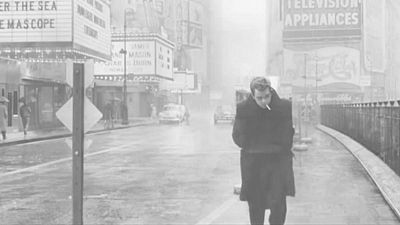 The 41st Deauville American Film Festival has opened with a special tribute to Canadian actor Keanu Reeves, whose decades-long career has seen him play both in global blockbusters like 'The Matrix' and 'Speed' as well as smaller, independent movies.
"I've been really fortunate to have had a chance to perform in studio pictures and independent films," he told our correspondent, Frederic Ponsard. "Hopefully that will continue… The Festival is fantastic in the range of films they bring and share with the audience."
Throughout the ten-day event, festival-goers will be able to enjoy a retrospective of films featuring Reeves, who is known for his versatility of choice in the roles he plays.
"That's American cinema, the same actor who played Neo in 'The Matrix' also played in 'My Own Private Idaho'," said festival director Bruno Barde. "He was the Chevalier in 'Dangerous Liaisons', and he also stars in 'Knock Knock', a sort of upside down version of 'Funny Games'. American cinema is a kind of cinema that has no limits."
In 'Knock Knock', Reeves plays a devoted husband and father who falls pray to a pair of femme fatale in a dangerous seduction and deadly game of cat and mouse. The film had its world premiere in Deauville.
Homage was also paid to British actor Robert Pattinson, who shot to fame in the 'Twilight' series and movies like David Cronenberg's 'Cosmopolis' and 'Maps to the Stars'.
Though he couldn't attend the festival, he sent a video message for the audience.
"Hi, it's Rob Pattinson," he told the audience. "Sorry I can't be there this evening, I'm in Belfast shooting 'The Lost City of Z' with James Gray. This is why I have to make this awful video in my trailer toilet!"
In his latest movie, 'Life', directed by Anton Corbijn, Pattinson stars as photographer Dennis Stock, who became close friends with up-and-coming Hollywood actor James Dean in 1950's New York.
"It's not a biopic. I don't want people to think it's a biopic. 'Control' was a biopic about Ian Curtis. There is a very different reason why I did this film. I did this film because I was interested in the photographer with the subject situation, that kind of balance. That the subject happened to be James Dean was a nice bonus, you know," said Corbijn, who started his career as a photographer.
"The film is really about these two artists who are very different but meet each other and learn from each other. I think that's true about Robert and I, we go about things in a different way, but I think ultimately we learn with that experience," said US actor Dane DeHaan, who plays James Dean.
'Life' is screened out of competition in Deauville and will be released in Europe and the United States from this autumn.
Featuring tributes, previews, retrospectives, this year's Deauville Film Festival also includes, of course, a rich competition, bearing witness to the diversity and creativity of American cinema.