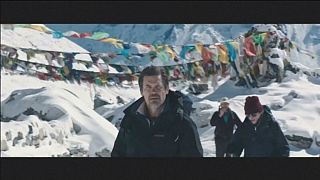 Gondolas and red carpets can mean only one thing. Venice Film Festival is set to kick off for its 72nd edition.
The quest for the golden lion is on with an eclectic range of cinematic offerings, but a high-altitude thriller hopes to wow on the opening night.
Festival director Alberto Barbera explains why they chose the adventure to open the proceedings.
"Because it's a sort of a special category of films, it has to be spectacular enough, not too violent because the audience of the opening night is different from the rest of the festival, it's made of guests; representatives of the public institutions, authorities, whatever, not cinephiles, not really cinephiles so you have to find a mix of elements that combine the many expectations of the audience."
Everest, starring Jake Gyllenhaal and Keira Knightley, is based on the 1996 climbers' disaster on the world's highest peak. It focuses on two expedition groups' battles to survive the elements.
The festival promises a certain amount of Oscar bait with 21 films in competition, including Tom Hooper's The Danish Girl, a portrait of one of the first people to undergo a sex change operation in 1920s Copenhagen.
Also vying for a prize, The Clan (Spanish: El Clan) is an Argentine crime film directed by Pablo Trapero. It is based on the case of Clan Puccio, that shocked Argentine society in the early 1980s.
"Venice's line-up this year and the competition is much more diverse it seems to me than it has been in the past," explains Variety film critic Jay Weissberg. "There's a little bit of everything which gives a broader perspective on what cinema is about at this moment. So, you've got some political films, you'll have a few light-hearted films from France. You've got social dramas, family dramas. There's even a sci-fi film, so there's a much broader range and a much more diverse line-up than in the past."
Screening out of competition Black Mass directed by Scott Cooper and starring Johnny Depp follows the criminal career of infamous Irish-American mobster Whitey Bulger.
Mixing Hollywood heavyweights with European auteurs, the Lido line-up has something for everyone.