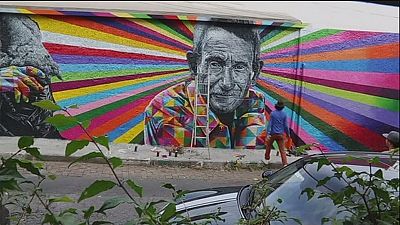 Kobra is one of the giants of global street art. This Brazilian has spray painted huge, colorful murals throughout the city of Sao Paulo to raise awareness of the social ills in his country's largest city.
Eduardo Kobra uses bright colors and bold lines while continues to develop a kaleidoscope theme throughout his art. The technique of repeating squares and triangles allows him to bring to life the people he depicts in his images.
Kobra completed the last of ten murals in summer 2015 for his project entitled 'Sao Paulo: an amplified reality.'
"The project idea is to talk about – as if I was amplifying the reality of Sao Paulo – a reality that many times goes unnoticed by locals and society in general. It's as if I came with a magnifying glass zooming in on the social problems of the city," he says.
Kobra's murals include a mural with recycling bins labelled with the words 'health,' 'transportation,' 'security,' and 'education,' and a poster of a missing girl. He has also stayed true to everyday human subjects.
"This is art that reflects the transportation and health problems, all these issues that need attention," says Sao Paulo resident Fernando Faria.
Kobra's murals include unknowns, a portrait of a poet who was homeless for 30 years, along with historical figures. These are his strong suit, evoking memories of moments past that still resonate with audiences today. Kobra has also spray painted murals overseas, including Abraham Lincoln and Nelson Mandela in the United States.