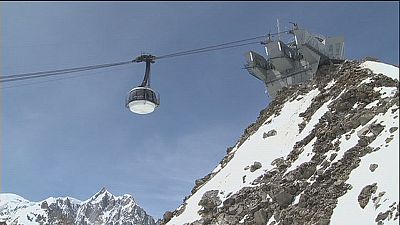 A new architectural wonder offers visitors breathtaking views of the majestic Mont Blanc, Europe's highest peak.
Courmayeur (Ao), immagine in diretta dalla nuovissima Skyway del Monte Bianco... pic.twitter.com/ytQyjpOBlt

— Marco Kanobelj (@marcokanobelj) July 28, 2015
The Skyway Monte Bianco, a revolutionary cable car that rotates 360 degrees and travels upwards of 3,500 meters, has recently opened in the Aosta Valley in Courmayeur, Italy.
Carlo Rossi is the architect behind the extreme engineering challenge:
"The Skyway project was born with the idea of letting people live a new experience, which is the experience of the mountain. We achieved this through a large use of transparencies, a cabin that rotates as it ascends, scenic spaces that can be captured from indoors rather than from outdoors, and comfortable spaces to transport anyone from a child to an elderly person to 3,500 metres."
New must-see attraction in the Italian Alps! #italy#travelhttp://t.co/TODQLTZKP7pic.twitter.com/rkotdetqb7

— Steve Perillo (@stephenperillo) July 28, 2015
Visitors board the Skyway at 1,300 meters and are transported to the mid-way point where travellers can enjoy glass balconies, restaurants and shops.
The journey then continues to the 'Eagles Nest' with stunning views of the Matterhorn, its an epic landscape.
The Skyway architect continues:
"Skyway reaches 3,500 metres in altitude. At the pinnacle you can enjoy an extraordinary view, unique in the world, through an architecture that was studied with specific angles oriented towards the most scenic points of the mountain, where you can feel strong emotions and create a bond with the mountain that remains with you."
Skyway Monte Bianco rappresenta l'eccellenza italiana http://t.co/gEzxIMVjQ3pic.twitter.com/fEykZ7eGcF

— Make Italy (@make_italy) July 20, 2015
The project provides a safe yet thrilling mountain experience.