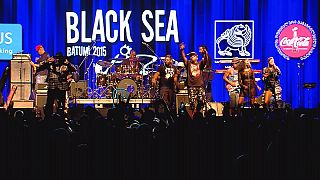 Sun, sea and sounds were on the menu at the Black Sea Jazz festival in Batumi. Every July the quiet seaside resort in Georgia is transformed into a hub for music lovers.
Boasting an eclectic line-up from Snoop Dogg to Lisa Stansfield, it covers an array of genres from R&B to soul and disco, not forgetting funk.
George Clinton opened the proceedings with his band Parliament Funkadelic. Still going strong, he celebrated his 74th birthday in the city.
American soul sensation Liv Warfield delivered a show-stopping performance on the second day of the festival.
The songstress, who was picked to join Prince's backing singers, now has her own successful solo career and counts the artist as her musical mentor.
Day three saw pop diva Lisa Stansfield take to the stage following a ten-year break. The British singer walked the audience through her highest charting hits.
One of the most hotly anticipated acts of the four-day festival, American rapper Snoop Dogg closed the event.
"I thought the people had a good time, they got what they payed for and I gave them what I believed they wanted, which was me to do a bunch of great songs to perform and interact with them," Snoop Dogg said, adding: "I'll be back."
Georgia marked the first Eastern European stop on his current tour.