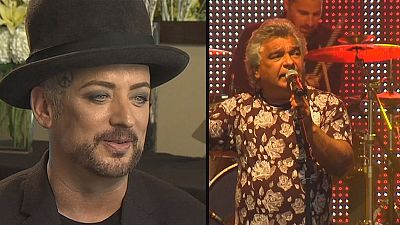 Thirty years on from releasing their Rumba Flamenca style, the Gipsy Kings are still keeping crowds on their feet with a world tour taking in Australia, the US and Britain.
The band attribute their staying power to their unique sound.
"From flamenco we created a new style, a new type of rumba which is ours and belongs to us. So it's true, it shook up flamenco music a bit," explained lead guitarist Tonino Baliardo.
"It's a type of music that even if some understand or don't understand, it's danceable, it's universal," added lead singer Nicolas Reyes.
The band's last album was released in 2013. Looking ahead they are setting their sights on collaborations with Eric Clapton and Santana.
Culture Club
For the first time in 15 years, Culture Club are back with the original line-up. They have kicked off their international tour in the US after previous attempts to reunite were aborted.
"I've actually said a few times that, for me, it was time to rewrite another ending. Because the last ending wasn't so great" explained George O'Dowd better known as Boy George. "And that was the initial reason for doing it. I did think it was going to be a much simpler process, but it's taken about four years to kind of pull it off."
The band have also been back in the recording studio with new album 'Tribes' scheduled for release early next year. But fans shouldn't expect an 80s nostalgia trip.
"We were a world-music band. We embraced everything, from reggae to Soca to even jazz, country. So, I think with this record, all we're doing is in, to my mind, being a more grown-up version of ourselves," said George.
The musician says this more pragmatic approach means that Culture Club will be more music, less drama.