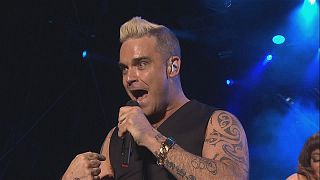 Switzerland's Paléo Festival has just celebrated its 40th edition.
The week-long event, held near the city of Nyon, began as a folk festival in 1976 with an audience of just 1,800. It has since grown into a major open-air festival, drawing more than 200,000 people to its seven stages.
"We were young, we had no money, no political support, not a lot of experience but we had a passion for music and an unshakeable conviction that we could make it work and that's how it all started," says co-founder and director of the festival Daniel Rosselat.
Initially located on the shores of Lake Geneva, the festival had to move in 1990 to a larger meadowland north of Nyon due to its growing popularity.
"At the start it was mainly folk music, but very quickly we covered world music, with Brazilian and South American music, and later we moved on to rock, hip-hop and electro," says the festival's programmer Jacques Monnier.
Over the years, the festival has drawn music legends ranging from Ray Charles and Neil Young to Pharrell Williams' rock, funk, and hip hop band N*E*R*D.
Iconic British rock band The Cure is a Paléo Festival veteran. Lead singer Robert Smith has some fond memories of the early editions: "Paléo was one of those festivals where we suddenly became this band (…) I felt like we were floating when we played those shows, but it was probably the drugs."
Pop singer Robbie Williams headlined the opening of this year's festival, which took a look back at its roots with concerts by legendary artists like Joan Baez, who took to the stage in 1982, Robert Plant and Patti Smith. There was also an area dedicated to circus acts and street theater.