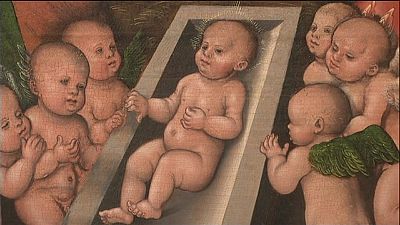 A unique exhibition of Medieval artworks saved from the Nazis is currently on display at the Bode Museum in Berlin.
Assembled by affluent German art collector Fritz Thomée in the early 20th century, it is rare as most private collections were destroyed or sold off during and after the Second World War.
Featuring some 600 pieces, it has now been passed down to his grandchildren.
"Without my mother, all of these artworks would no longer exist. She was given the artworks during World War Two after her father's death. She hid them in the basement of her parents' house behind a brick wall. So the art disappeared, and that's why we still have it today," says Werner Marks, grandson of Fritz Thomée.
Werner Marks says he considers each piece a part of his family. Though it was hard for him to part with the works for the time of the exhibition, he says it makes him happy to see them in this new setting.
"I find it grandiose… because here, there is space for the artworks, they can breathe. And that is not the case in my home. When I come home I always greet them and say 'I'm home.'"
'The Fortunate Collector: Masterpieces from the Marks-Thomée Collection', a comprehensive selection of Medieval artworks from across Europe and Asia, runs at the Bode Museum in Berlin until October.