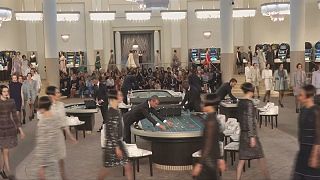 Chanel gambled on a casino for designer Karl Lagerfeld's 2016 Autumn-Winter collection at Paris Fashion Week.
Finale from the Fall-Winter 2015/16 Haute Couture show #ChanelCerclePrivé. See more photos on http://t.co/roXTqY6WHopic.twitter.com/1xnLvWeWDo

— CHANEL (@CHANEL) July 7, 2015
Another gamble, 3-D printers were used to make the jackets on the catwalk, material and embroidery then embellished the basic design.
Lagerfeld is happy to move with the times:
"You know fashion is not needed, there are other problems in the world which may be more important, so this is not a problem, but it's an industry and you know, fashion has to go with time, if fashion doesn't go with time, fashion would be lost."
The @Chanel#couture army marching by https://t.co/p7cYWqIgKR

— Vanessa Friedman (@VVFriedman) July 7, 2015
Donatella Versace's latest offerings are inspired by a medieval vision of femininity
Ethereal emerald eyes and garlanded hair - the beauty at the @Versace​ #couture show in Paris http://t.co/Q4QHf0YZT0pic.twitter.com/cGYVv565aX

— VOGUE.CO.UK (@BritishVogue) July 7, 2015
Versace's fashion shows are well known for their extravagance – the runway was a 30-metre long glass case housing 25,000 freshly cut orchids.
Armani held a private show at the Palais Chaillot in Paris as ever the house impressed.
Wearing flat shoes and slippers, their hands sometimes in their pockets, the models looked coolly glamorous and comfortable as they walked casually down the long runway.
.@armani 360: See every look from the couture collection, plus head backstage http://t.co/CKCIvMHCwhpic.twitter.com/VM0h4rv5gU

— VOGUE.CO.UK (@BritishVogue) July 8, 2015
This year marks Armani's 40th in the business, and this show was just one more example of the fact that he remains as relevant as ever.