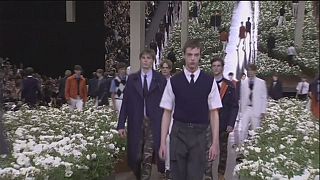 Bourgeois was the watchword at the Dior Homme spring-summer fashion show in Paris.
With the aim of widening his target client base, the brand's Belgian creative director Kris Van Assche focussed on a mix of menswear codes, sending his models down a catwalk lined by a garden of fresh white roses.
There were, of course, the traditional suits, but the collection also featured everything a bourgeois boy might need on a weekend – including camouflage, argyle knits and even navy jackets with the signature orange lining.
Louis Vuitton's menswear show was all about world travel.
While designer Kim Jones generally creates collections that refer to one region in particular, this bright, colourful and typically luxurious show mixed influences from New York, Tokyo, Bangkok and Paris.
Jones channeled Southeast Asia with intricate Thai embroidery on satin blousons and silk boxing shorts.
Japan came through in the sundried Kobe leathers, worked into traditional American flight jacket shapes.
And France made an appearance in the Louis Vuitton monogram canvas bags, leather footwear and cord necklaces.
Hermès showed its Spring-Summer menswear collection among the rose bushes and stone arches of the Cordeliers convent.
The clothing was as lush and luminous as the setting – a combination of informal and sublime luxury that have become designer Veronique Nichanian's trademarks.
Models wore linen suits, cotton T-shirts with leather jackets, poetic prints with graphic stripes – all in eye-pleasing, summery colours of mint green, blue, beige and white.
The label's famous scarves were ever-present, paired with half-buttoned shirts and tasteful outerwear for an off-duty, leisurely look.