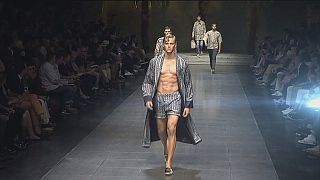 Dolce & Gabbana remained rooted in their beloved Sicily but continued to find foreign influence in its rich heritage at Milan Men's Fashion Week.
Seeking inspiration at the Chinese Palace of Palermo, they offered silk suits segued into Oriental-style tops with matching trousers. The looks were printed with ornate patterns inspired by the palace, including teeming scenes of flora and birds and rich reproductions of dragons and peacocks.
On the more casual-luxury side, tops with Oriental prints or embroidered details were paired with ripped jeans or Bermuda shorts.
Espadrille-style shoes in luxurious leather with animal prints were worn with even the most formal looks.
Versace's collection for next spring and summer was part Bedouin- part rugged traveler.
In a spectacular Ottoman tent constructed entirely out of her signature silk scarves, designer Donatella Versace layered long silken tunics under suit jackets and even hoodies for an exotic mix of urban and desert styles.
In a color palette ranging from dark shades of brown to bright reds, deep purples and royal blue, the designer fused East with West and utility with tailoring in her latest spring-summer offering.
With the words "evil", "bankers" and "criminal" flashing on screen, models stomped furiously down the catwalk in Vivienne Westwood's vision of our wardrobes in a post-apocalyptic landscape.
The designer, who is known for her social commentary, said the campaign aims to spread the message that "politicians are criminals" and went on to accuse world leaders of causing climate change.
The collection included colourful and flowery prints, ethnic and punk, and what appeared to be worn out clothes, along with dandy, pyjama-like items – as well as some elegant suits.