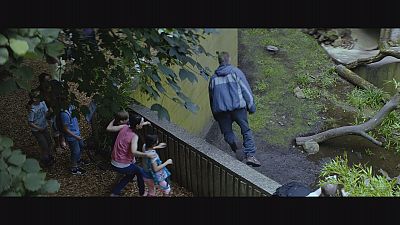 Three seemingly random plots in the German film "Die Lugen der Sieger" – (The Lies of the Winners) are all related.
A man commits suicide by throwing himself into the lion pit of a zoo, there is black money in the German army used to manipulate the official numbers of injured soldiers and finally a toxic waste scandal.
Journalist Fabian and his trainee colleague Nadja set out to investigate what the thread is between them.
The director of the movie is Christopher Hochhäusler. He is one of Germany's new generation of filmmakers who studied architecture before attending film school.
"A journalist is a character you might compare to a detective – with him you can cross social classes because he himself is not part of a certain social class. It is part of his job to work in all social layers so for me from a dramatic standpoint it's very interesting to use a journalist as a tool for storytelling," he opined.
The deeper the journalists dig, the more they are confronted with professional spin-doctors, industrial lobbyists and PR agents. All try to manipulate public opinion and send the journalists off on false trails.
The title comes from a citation by the US American poet, painter and liberal activist Lawrence Ferlinghetti, who once said: "History is made based on the lies of the winners but you can't tell the title of the book".
"I am interested in this to describe our present time. Not only through private stories but also with stories about institutions and modern ways of working. Today the media play a key role in every business. It's all about PR, there is hardly anyone working who is not involved in the media and in the end the media itself becomes obsolete," explained Christopher Hochhäusler.
Throughout the film there is the shadow of the stakeholder in the background who is trying to control and influence political, journalistic and everyday life.