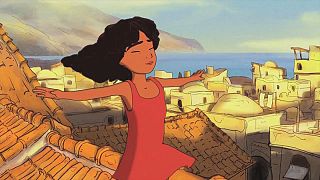 The Annecy International Animated Film Festival is one of the most celebrated animation gatherings in the world. Created in 1960, the festival takes place each June in France, this year featuring 215 films in competition from 40 countries. More than 125,000 tickets were sold last year, proof of this surging market.
Having a public festival and the film industry at one event is quite exceptional.
Opening the festival this year is The Prophet, produced by Salma Hayek-Pinault and directed by the The Lion King's Roger Allers.
It is based on the literary bestseller of the same name written in the '20s by Lebanese poet Kahlil Gibran. A message of peace, love and brotherhood, the adaptation is a collection of nine stories of Mustafa, a poet imprisoned for his writings. Through his adventures, he delivers poems to others which serve as life lessons.
Director Roger Allers' objective was the creation of a narrative thread to connect the poems.
Explains Allers, "There was the challenge of adapting the book which has very little story and increasing its narrative to support a film and finding a way of folding the poems into the narrative, letting them grow out of the narrative in a graceful, integral way."
The creators brought on board the likes of animators Bill Plympton and Johan Sfar to interpret the poems. Each of the story's mission was to perform a sequence, a segment corresponding to one of Gibran's works. The end result is a beautiful mosaic work of words, images and music.
Newcomer Mohammed Saeed Harib of the Emirates showcases his stunning 3D work in The Prophet.
Says Saeed Harib, "I'm super proud because you know Arabic literature is full with the Aladins, the Ali Babas, the 1001 nights…and that's very, very cultural and very old. But this is very contemporary, something that is very well celebrated, one of the most-selling books around the world, and we are all gathered together here to celebrate Arabic creativity."
The festival brings together animation fanatics and professionals from across the globe.
Says Canada's Marcel Jean, director of the event, "I don't think there is an animation festival in the world which competes with Annecy. Having a public festival and the film industry at one event is quite exceptional. It compares to the large, traditional film festivals in Venice, Locarno, Toronto … we will leave aside Cannes!"
Also in the spotlight this year in Annecy is a celebration of 100 years of Spanish film animation, from the early days of black and white to today's 3D works.
Hundreds of films, short and feature film competitions, retrospectives, outdoor screenings, and pre-screenings… prestigious Annecy is now recognised as the location for animated film.